Your all-in-one small business

dashboard
Helping you better understand the health of your business via insight-based interactive dashboards, accurate cash flow forecasts, and simple to use budgeting tools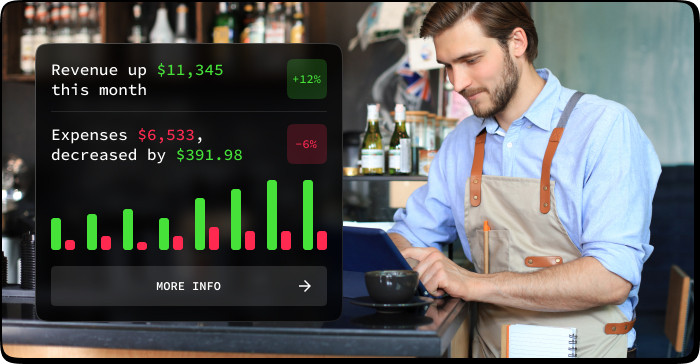 Improve your business's financial health without breaking a sweat
Managing a small business without measuring, reporting, and analyzing is dangerous, but let's face it, these activities can be complicated and boring! Sign up for CreditPush's all-in-one small business dashboard, and we take care of the heavy lifting for you.
Plug in your own business data from across all the different apps you have been using, such as Quickbooks, Stripe, Zoho, Square and others and see how your business is performing. The platform automatically refreshes data so it is always up-to-date. Rest assured that 256 bit data encryption protects your valuable information so that it stays secure.
Your data is secured through 256 bit data encryption
Key benefits
Actionable insights empower your business growth
Assess your small business health and access actionable insights from your favorite business apps, with 160+ app integrations. Data is aggregated in real-time and cross-analyzed to better understand current issues facing your business, and how to resolve them. These highly tailored insights give your business a live playbook as to your next steps towards greater profitability.
Performance alerts
How much cash can your business expect to generate, and how much will be leftover after expenses? How do different financial, human resources, and operational decisions affect future cash flows? Real-time activity alerts offer immediate support with further drill-downs into issue analysis, recommendations and action steps to help your small business scale faster.
Intelligent forecasting
An intelligent forecast modeling engine helps you understand how different decisions in future sales, marketing, HR, operations, and finance issues influence your business outcomes and profitability.
Manage your business credit score and boost it
CreditPush gives you actionable insights to help your credit score improve, making any credit application more likely to be approved.
Your data is secured through 256 bit data encryption
150+ integrations
Connect all of your apps on one platform to get your free credit score and see how to improve your small business performance. Get access to new business owner loans.